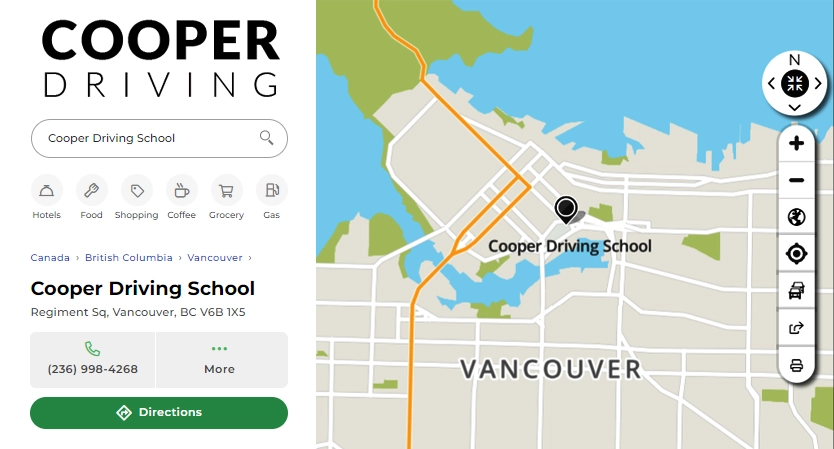 King Edward Station is where i start my lessons.
131 Regiment Square is where I park my cars, which is right above Costco (605 Expo Blvd.)
Need help with these test centers?
Text me at 236.998.4268 with all your question. I answer everything.

I am very familiar with the following centers, plus I recommend these in this order:
Burnaby Center 3881 Lougheed Hwy

Vancouver Claims Center 999 Kingsway

Burnaby Claims Center 4399 Wayburne Drive

Vancouver Center 4120 Macdonald Street

Richmond Center 5300 No. 3 Road

Richmond Claims Center 7200 Elmbridge Way

North Vancouver 1331 Marine Drive
Please text 236.998.4268 to register.
Each session is 1½ hours long

Adding Road Test Day is optional

Please carry your actual license and glasses for each drive session

Must pay in full to receive Package Pricing

Cancel 24 hours prior of the lessons for any reason

Lessons not yet take could be refunded

Note: 24 hours notice to cancel or there is a $50 late charge
Expect 2½ hours for Road Test

60-minute warm up before Road Test

Arrive at test center 15 minutes before test time

Exam typically starts within 15 minutes of scheduled time

Exam typically runs for approximately 40 minutes

Ending ICBC paperwork takes about 15 minutes

Use the same car you trained in. Or use your our car. Take the car you are most comfortable with

IMPORTANT NOTE – you must take one 1½ hours lesson before the Road Test day to qualify to use our car for exam day
1 Individual Session × 1½ Hours
General assessment , beginner, N preparation, L preparation, driver development, anxiety management, fear work, post crash help, or to try out our services
$195.00 + 5% GST = $204.75
Bring ID, bank or credit card, safe, clean & legal car, be well rested
$230.00 + 5% GST = $241.50

10 Individual Session × 15 Hours
Full Price $195 × 10 sessions = $1,950 however purchase a group of 10 sessions and pay only $1,850 saving $100. Sessions are 1½ hours each.
$1,850.00 + 5% GST = $1,942.50
Special price only with 10 Individual sessions purchase.

Bring ID, bank or credit card, safe, clean & legal car, be well rested
$220.00 + 5% GST = $231.00

* All pricing applicable taxes (GST 5%) are not included. ICBC Road test and licensing fees are not included. Prices are subject to change without notice.
Cancellation Policy & No Show Policy
Please respect my time as I respect yours. If you are unable to attend a lesson or need to adjust the pick-up place or time, contact COOPER with at least 24 hours' notice. You can call or text my local number at 236-998-4268. I do have a charge of $50.00 for late cancellations and NSF cheques.
Corporate Policy Please Review
ICBC requires that you read our corporate policies READ HERE prior to driving with us. Please text any related questions to 236-998-4268 or whatsapp us, or email us at [email protected] . And please carry your real license with you at every drive. Digital image of your license is not legal. Must bring the real thing (+ glasses.)
e-transfer to [email protected].

You want to pass? You want to drive safe? You want to drive calm and manage fear and anxiety when driving? My experience is extensive in all these areas and more. My background is more than 16 years working with all kinds of drivers aged 16 to 91 including corporations, fleets including research study work with Transport Canada.
For the last three years I have worked for six different transportation organizations learning B.C. driver training industry preparing to manage my own clients. I currently do all the in-car training because I love it, and I love being in my comfortable Acura training vehicle. My schedule is never booked solid. I keep space to best ensure my clients remain calm relaxed with flexibility for fast test bookings and schedule changes. I do work with two other trainers when needed.
Additionally, both Cooper Driving School & iHaveEvolved.com Inc. are owned by Todd Cooper. They both are legal to provide services in B.C . 🙂